Our Builder's Clean Service specializes in providing post construction clean-up. If you are a builder or architect and need a post construction clean after a major project with saw dust everywhere then our builders clean is perfect for you.
Our Cleaning services cover new and renovated residential and commercial projects. As every project is different, so our cleaning services are custom-tailored to your needs and timelines.
Don't Do It Yourself
The Post Construction Cleaning can arise health risks especially to someone who suffers from asthma or any other respiratory allergies. Builder's dust majorly contains wood and crystalline silica dust which accumulate everywhere and is very dangerous when inhaled and can even cause quick illness.
Let us take the responsibility of such job and even you can also use our other services at like Carpet Cleaning, Hard Floor Care, Window Cleaning and Exterior Washing at a reasonable price if required.
How Our Builder's Clean Service Works
Step 1: We will visit your Site to have an understanding of your cleaning requirements.
Step 2:  Based on your description, we will prepare proposal with an estimation of the cost and the time.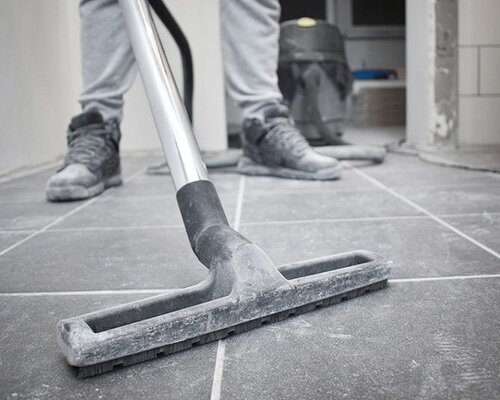 Our general Post-Construction Clean includes
Fully Renovated/ Newly Built Unfurnished Property
Surfaces: doors, skirting boards, banisters, window sills.

Spot cleaning and builders dust removal from walls and ceiling

Removal of plaster or paint from light switches, sockets and kitchen & bathroom fittings.

Windows: Cleaning from inside

Floors: vacuum and moping
Fully Renovated Furnished Property
All the above will be carefully addressed

Dusting and wiping cupboards, benchtops, drawers, cabinets, etc.

Polish mirrors and glass

Vacuum carpet and upholstery

Electrical appliances: sanitise from outside
Partially Renovated Furnished/ Unfurnished Property
Spot cleaning of areas used by builders.

Detail cleaning of renovated rooms.

Furniture and specific items will be cleaned
Call for no obligation free quote
0800 392 352